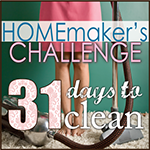 In some ways I feel silly doing an update because I am terribly behind in 31 Days to Clean. I guess because I had already read the book (but without doing the activities) it caused me to slack a bit. So, while I haven't followed it word for word, I did do some fairly extensive cleaning of our kitchen, including our fridge…
Isn't she gloriously and ethereally luminescent?!  Can you hear the angels singing?!
I do plan to do a little catch up and get back on track, however. So far the chapters on priorities and laziness have totally kicked my butt and made me very glad that the Maximize Your Mornings challenge starts this weekend (with over 700 ladies! Eek! Woo woo!)!
So, yeah, there really isn't anything more to tell.  I love the book.  It's very well written and well-founded, I just need to get my boo-tay in gear!