Ok- correction- it's almost New Years for me.  As in, we're approaching my birthday here people!
Since the beginning of 2011 was a bit of a flop for me in terms of following through on my "resolutions" (that whole prolonged postpartum depression thing has continued to rear it's ugly head and make most things much more difficult) and since so much seems to be changing right now, I felt like it was the perfect time to try for a fresh start!  Plus, there are a few AWESOME opportunities available right now that I just know are going to make a huge difference in my success on this journey.
One of them is (dun da da dun dun dun)…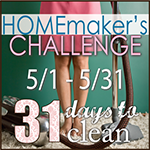 If you exist anywhere within the mom-blogging universe then you have probably already heard the hype and buzz about this book by Sara Mae!  The title alone, "31 Days to Clean- Having a Martha House the Mary Way" is just enough to make you take pause and think, "Hmmmm… a Martha house huh?  Could she mean Martha Stewart?  Well, even if she doesn't, it's bound to be better then what I'm rockin' right now!"  All in all, it's just the perfect answer to my housekeeping re-vamp!
So, yeah, that starts on May 1st (just 2 days after my birthday!).  And then there is the Maximize Your Mornings Summer Challenge.  Eeeek!  For any of you who know me or followed my old blog for any length of time, you know that mornings aren't my strong suite!  At.  All.  I think the Maximize Your Mornings Challenge is the perfect motivation and accountability I need to finally get a grip and get up early!
It starts May 15th, so I should be about half way done with my 31 Days to Clean, which I think is really smooth timing!  It's gonna be great!
I think.
I hope.
Ok- I'm sceeeeeered out of my mind!  But the best changes, the ones that rock your world and change your life, always do that to you!  Don't they?!
And then there's that whole little thing where on May 2 I will be finding out if I scored myself the "Writer's Craft" (in)courage sponsorship to Relevant (which is a Christian Womens' Blogging conference, for those of you who don't know) that I applied for last week.  I wasn't even going to mention it here, cause well, I'll probably loose!  (How's that for encouraging!?  Haha!)  But I spent a LOT of time on my proposal and dearly hope that I stand a chance!  This is probably the last opportunity I will have to go to Relevant for a few years since we are planning (hoping!) on popping out another kiddo in the next year, and there are just so many of my blogging friends that I would absolutely LOVE to meet and connect with in person!  It would just be amazing!  Plus, to partner with (in)courage would just be completely crazy and wonderful!!
I am also going to be finishing up reading One Thousand Gifts by Ann Voskamp, and delving deeper into writing my own list.  If you missed it, I posted about this amazing book here.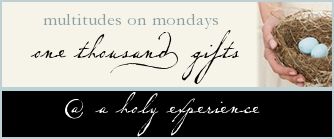 There are a few other things that may get thrown into the mix.  Ya know, just big, life-changing decisions and events- nothing major!  🙂  Oh, and possible resuming work on my novel.  But I'll let you know about those when I know more!  Otherwise, you know I'll be blogging about the rest!  Blogging about my journey back to sanity, focus, and a more vibrant organized and beautiful life!
Well, that's the plan anyway! 😉