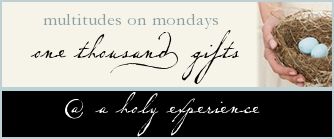 #118- My brother surviving the weekend and looking to change his life- praise Jesus and keep praying!
#119- My littlest man falling asleep on my lap from a ride on the waves…
#120- A weekend full of Grammy's help, including dipping warm toes in the cool water…
#121- My handsome Carpenter who I am learning to love better every day…
#122- The chance to go fishing…
#123- How encouraging this little man is to everyone else he is fishing with!
#124- This silly little person…
#125- and his pretend fishing!
#126- Slow but sure steps toward potty training a very-strong-willed child!
#127- A boy's boy who became the pollywog-catching king over the weekend!
#128- And finally, calling my mother-in-law (the above mentioned Grammy) while she was in the middle of getting a ticket for talking on the phone while driving, having her put me on the line with the officer and explaining that she helped me all weekend long with my munchkins, whilst my crazy two-year-old screamed wildly in the background and eventually completely getting her out of her ticket!  Haha- crazy but true!
What are you thankful for today?