I like to think that I do a pretty good job of keeping my finger on the pulse of homeschooling products and companies that are out there these days. I enjoy researching and trying to determine if a certain something will be a good fit for our family or one of my kids specifically. So, admittedly, I was caught by surprise when I was given my first review for The Crew and I had never heard of it- SchoolhouseTeachers.com. Then I was even more surprised that I hadn't heard of it before when I started reading some of the names associated with the company- BIG names, like Diane Waring, Terri Johnson, and Malia Russel, just to name a few! So, just from seeing the names of those Titans in the homeschool world scrolling up my screen I knew that this was a site that I definitely wanted to spend more time investigating!
What SchoolhouseTeachers.com basically is, is a membership site put together by The Old Schoolhouse Magazine that has collaborated top teachers in almost every subject you can think of for every different academic level- PK through High School. These teachers post daily, weekly and monthly lesson plans on the site, many of which include printable components and even videos, so all you essentially have to do is download and go!

How we have been using SchoolhouseTeachers.com–
Honestly, there is so much content on this site, I hardly even knew where to begin. What I did know was that we were a few months into our school year, had gotten into the swing of our regular school routine for each day and I was really wanting to beef it up a bit. We had just finished our first math book for the year and were at a bit of a lull waiting for the next one to arrive in the mail, so I thought I would jump over to the elementary math lessons on SchoolhouseTeachers.com to see if there was something I could fill in the gap with.
I wish I could convey to you the utter delight that overcame me when I realized that the videos that Peter Price of Classroom Professor posts were actually teaching ME how to teach my son different math concepts! I swear I heard angels singing! Math is not my strong suit and it's even worse when I try to explain it, so the fact that he gave me a short little video that quickly walked me through the process of presenting these strategies to my son, felt absolutely genius to me! I was SOLD! I printed out the accompanying worksheets and we both had the lesson mastered by the middle of the week!
Roman working on math worksheets
A few days after we dove into the math lessons I was sitting with my poor 6 year old struggling through his reading… again. We were both so frustrated that after a painful 45 minutes I called it quits for both of us. He bolted to go make some Lego creation before I changed my mind and I sat there, wracking my brain to try to come up with some idea of how I could make this process of learning to read less dreadful and laborious for both of us. Then a lightbulb went off- "I have that SchoolhouseTeachers.com membership! Maybe there's something on there!" Well, wouldn't ya know it? There was! In the elementary reading section there was a whole month devoted to strategies to help struggling readers! The very next day we started putting them to use and I saw immediate results. Hope began to glimmer again for my son and I that day, thanks to this wonderful resource.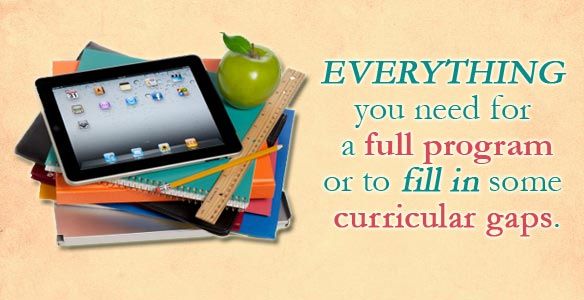 I know that I have really only scratched the surface of how this website can add to our learning during the year. I mean we haven't even touched the Guitar, Spanish or French lessons and the daily astronomy, history, and writing lessons (just to name a few) would be wonderful to add as well! It just has so much to offer that one family could never do it all, but I am thrilled that I have such a wide selection at my finger tips! I love the versatility that it offers. I truly think that a family could do nothing but get a subscription to this website for their year and have enough material to instruct their children with virtually no gaps. And I haven't even mentioned the fact that you get access to all the archives for the site along with a boatload of freebies, including their awesome Old Schoolhouse Yearly Planners and 12 ebooks!
The Final Verdict-
I can honestly say that I plan to continue integrating SchoolhouseTeachers.com into our lessons for the year and that I have already told my husband that I would like to purchase a subscription next year as well. You CANNOT beat the price- it's only $1 for your first month and just $5.95 after that. You can also purchase a full year membership at a 10% discount for $64.26. I love knowing that I have a resource at my disposal that can not only help me answer my teaching questions when I have them but actually give me the lessons to go with them. SchoolhouseTeachers.com gets 5 stars in my book and will absolutely be kept in my homeschooling bag of tricks.

Disclosure- I received a one-year membership to SchoolhouseTeachers.com as a part of The Schoolhouse Review Crew for the purpose of honest review. If it didn't work for us, I would have told you! 😉
Affiliate links were used in this post.