Our latest review with the TOS Crew has been extra fun because it was just for Judah- TouchMath's PreK Homeschool Curriculum. Judah loves to do school right now so I knew this math curriculum would be the perfect thing to give him something solid but fun to sit down with on a regular basis.
The Goods
For our review we received the PDF version of TouchMath's PreK Homeschool Curriculum ($59.95) along with a set of TouchShapes ($30.00), 3D Numerals ($79.00), and TextureCards ($99.00). The Preschool Curriculum is split into 6 modules with 15 lessons each. Each lesson is planned to be very short- you are only supposed to sit down for a lesson for the the same amount of minutes as your child's age plus half his age (so since Judah is 3, his lessons were only supposed to be about 5 minutes each).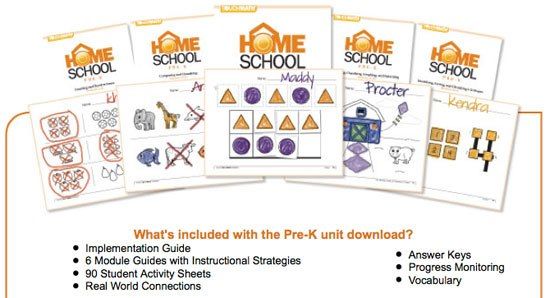 How It All Played Out
Judah is my "school" guy! He has amazing concentration for a 3 year old boy and has a real hunger to learn. Because of all that ,I followed his lead and pretty much allowed him to go through as many lessons at one sitting as he wanted to- when he lost interest we would quit. This typically lead him to working on the lessons for about 15 to 20 minutes and completing 2-4 at a sitting. After about a month of use we are at the end of the 2nd module and so far he has mostly been in review mode. Many things he was already very solid on but there have been some good reinforcements of things he's still mastering (like shape names and ordinal numbers).
He LOVES the manipulatives and I have found them to be very inventive! I love the entire concept of giving real weight to the numbers by having the counting touch points to identify each numeral. He adores pulling
out his big chunky numbers (3D Numerals) or TextureCards to figure out the numbers by counting and they really are helping him identify numbers more easily. He also loves incorporating the TouchShapes into the lessons and using them with the worksheets. The TouchShapes come in 3 different scale sizes and 6 colors each- super useful! The manipulatives are very high quality and I know that we will get years of use out of all of them.
From a teaching perspective I thought it was well laid out and very open and go (which was so nice!). There is lots of information available to the parent for how to best teach the material as well as the concepts behind the program. I think the only thing I really wish was different would be that instead of separating the PDF out by modules (which is what I'm assuming the hard copy manual is like) that all the printables would be grouped together separately for easier printing. It wasn't that bad though, so I can't complain too much!
The Verdict
For us, it's working and I fully intend to finish out this entire curriculum with Judah because he's easily grasping the concepts and showing mastery of skills. I look forward to this program hopefully helping to alleviate some of the struggles we've been experiencing in first grade with his older brother by establishing a solid jump start in math for Judah. I'm confident that after finishing this program Judah will be more than ready to enter in to kindergarten math and I think the foundation he is building with TouchMath will help to to excel there as well.